Client:

Veterans Healing Farm
Date:

December 19, 2016
View Project
John Mashie – Veterans Healing Farm
EBV Class of Florida State University 2013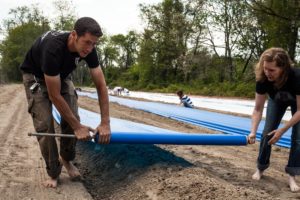 John Mashie joined the US Air Force in October of 2000 and was trained as an AGE mechanic and a member of the USAF Honor Guard. He was stationed in Northern California at Travis AFB and was deployed TDY to Rota Spain in support of Operation Enduring Freedom. After being honorably discharged in 2004, John's entrepreneurial spirit led him to start multiple businesses including a Christian ministry called Sermon Jams, pottery and stone carving business, shaved ice company, kettle corn concession stand, hummus & pesto company, website development company and a roadside produce stand (to name a few).
In 2013, John was accepted into the EBV program at Florida State University. After graduation from the program, John achieved tremendous growth and success in his social media marketing company. Additionally, his time at the EBV also inspired him to pursue his long-standing dream of starting a non-profit community farm serving veterans. John's wife, Nicole, soon attended the EBV-F at Syracuse to help develop the business plan for what is now the Veterans Healing Farm.
In 2014, John left his website design business to work full time for the Veterans Healing Farm. His vision was to create a healing place for veterans that would cultivate a strong sense of community for local veterans while supporting healthy habits like good nutrition and outdoor activity. As word spread about the farm, participation rapidly increased and the vision of the organization continued to grow.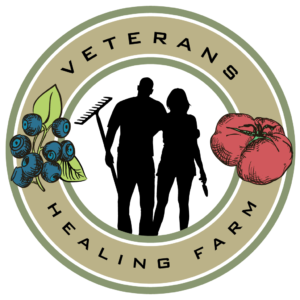 The primary purpose of the Veterans Healing Farm (VHF) is to support veterans and caregivers by providing access to fresh produce, farm activities, and seminars on holistic health and sustainability. VHF is passionate about empowering and supporting veterans reintegrating into civilian life by fostering a thriving micro-community of veterans and civilians who build deep friendships, implement innovative gardening techniques and help cultivate emotional, physical, and spiritual health.
In 2015, as an attempt to provide VHF members with a "sense of mission" and an opportunity to serve their local communities, VHF donated over 3,500 pounds of fresh produce to local food pantries. In 2016, VHF planted an additional one-acre donation garden covered in colored agricultural plastic, creating a huge "American Flag". This donation garden was used to grow over 8,000 pounds of fresh produce which were donated directly to local veterans at the main entrance of the VA hospital in Asheville North Carolina.
Additionally, VHF has developed a one-of-a-kind five-day crash course "Veteran Farming Boot Camp" training initiative scheduled to launch in the Spring of 2017. This innovative program is designed to educate and empower veterans with lessons in farming, homesteading and sustainability. Topics will include farming, medicinal herbs, beekeeping, off-grid energy systems, animal husbandry, and other lessons on holistic health and sustainability.
The ultimate goal of this program is to train veterans to replicate the VHF community farm model and distribute free produce to veterans at VA Hospitals throughout the country. This movement will provide participating veterans an opportunity to serve their local communities, peer-support and access to fresh produce.
Veterans Healing Farm Website